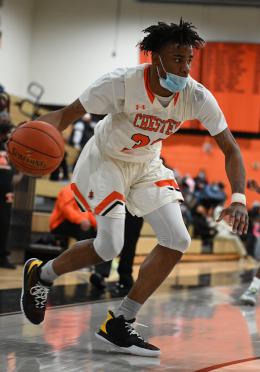 Karell Watkins (above) led all scorers with 24 points. (Photo: Josh Verlin/CoBL)
Chester senior big man Karell Watkins scored 11 of his game-high 24 points in the third quarter, an eight minutes the Clippers dominated, turning that one-point advantage into a 52-36 lead by the start of the fourth quarter. Chester's full-court press forced 17 Rustin turnovers, and a Clippers attack that was 3-point heavy in the first half only took two treys after the break.
"He's a monster on the boards, he's our go-to guy, why not get him the ball? That's my thing," Chester coach Keith Taylor said. "(Watkins) has to have the basketball in his hands. They double down on him, then that opens everything up for everyone else. We've got to start inside instead of starting outside."
There was no raucous celebration at the end, the Chester players understanding that their latest district title came on a tough night for their opponent. But the school's first District 1 5A championship — their other titles all came in the old AAAA classification, before the state went to six classifications last decade — was certainly an accomplishment for Taylor's program, which now becomes the district's only entrant into the PIAA Class 5A Tournament.
One of only eight teams still in competition for the 5A state championship, Chester will host District 2 5A champion Crestwood (17-1) on Friday night.
"(Districts were) the second part of our goal that we set out to attain, our third goal is the state championship," Taylor said. "Now we have to try to refocus tomorrow in practice to get ready for the first round of the states. Can't get a state championship if you don't get the first one."
By Quarter
Chester: 18 | 13 | 21 | 10 || 62
Rustin: 15 | 15 | 6 | 10 || 46
Shooting
Chester: 22-47 FG (4-12 3PT), 14-23 FT
Rustin: 18-45 FG (3-11 3PT), 6-11 FT
Scoring
Chester: Watkins 24, F. Burton 14, J. Burton 11, Womack 5, Horsey 4, Jerkins 2, Freeman 2
Rustin: Chobary 8, Reinheimer 8, Barrouk 7, Sleschsinger 7, Shivers 5, Freney 4, Sproull 4, Shoup 2