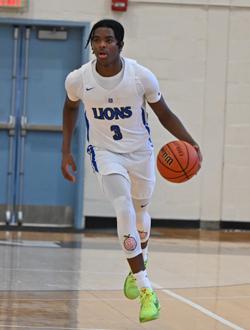 Chas Kelley (above) flirted with a triple-double in leading Phelps to a big comeback win. (Photo: Josh Verlin/CoBL)
Game Recaps
Phelps School 109, Hill School 101 (OT)
The Hill School took a 12-point lead at the break against Phelps, and built the advantage up to 20 early in the second, but they didn't have an answer for Chas Kelley. The Boston College-bound guard made eight straight shots at one point, pulling his team ahead by seven late in the second half. Hill recovered, getting a game-tying 3-pointer from junior forward Augie Gerhart with 10 seconds left in regulation to send it to overtime. But the overtime was all Phelps, which got a 3-pointer from Neel Beniwal and two buckets from Malcolm Wrisby-Jefferson, plus some timely foul shooting, to hold on for the win.
By Half
Hill: 59 | 34 | 8 || 101
Phelps: 47 | 46 | 16 || 109
Shooting
Hill: 34-75 FG (12-33 3PT), 21-29 FT
Phelps: 37-73 FG (14-36 3PT), 21-31 FT
Scoring
Hill: Ethan Meuser 26, Augie Gerhart 17, Trey O'Neil 17, Anthony Wise 14, Graham Eilberg 11, Josh Cameron 8, Luke Rasmussen 1
Phelps: Chas Kelly 39, SJ Hutchinson 16, Jack Collins 13, Malcolm Wrisby-Jefferson 11, Saleem Payne 10, Neel Beniwal 7, Mitchell Holmes 6
~~~
Westtown School 70, Perkiomen School 61
Asea of Westtown students, all dressed in black to create a formidable presence along the gym's back wall, had plenty to cheer about as Westtown spoiled Perkiomen's bid for a perfect 3-0 Cup, with Duke-bound Dereck Lively II putting up a big double-double along the way. Though Perkiomen led by seven late in the first half and five at the break, Westtown hung tight, then surged down the stretch. Lively, the Moose's 7-1 center, scored on post up after post up, going to a reliable right-hand hook, while junior Matt Mayock hit a pair of back-breaking 3-pointers. And the crowd went home happy.
By Half
Westtown: 32 | 38 || 70
Perkiomen: 37 | 24 || 61
Shooting
Westtown: 22-65 FG (5-24 3PT), 21-27 FT
Perkiomen: 23-63 FG (9-29 3PT), 6-7 FT
Scoring
Westtown: Dereck Lively II 30, Quin Berger 16, Seyphon Triplett 8, Jameel Brown 8, Matt Mayock 8
Perkiomen: Xaivian Lee 23, Ryan Dunn 10, Priest Ryan 9, Sam Pohlman 5, Thomas Haugh 5, Bobby Rosenberger 3, Jake Koretz 2, Brandon Legris 2, Ibra Bayu 2
~~~
Standouts
Jack Collins (2022 | Phelps School)
One of a number of committed seniors who really showed their stuff on Wednesday was Collins, who won the 'tough guy' award (not a real award) for his play in the comeback win over Hill. The 6-5 wing out of Manasquan (N.J.), doing a fifth year at Phelps before heading off to Monmouth, was super-aggressive on the glass, grabbing nine rebounds (four offensive), not an easy feat against a terrific Hill frontcourt; he also had four steals, two assists and a big-time block on one of those Hill bigs. Collins' normally-reliable 3-point shot wasn't there tonight, as he was 1-of-6 from deep, but worked his way to 13 points with a couple mid-range jumpers and contested finishes.