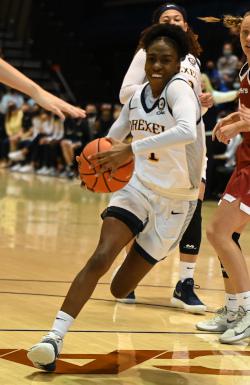 Keishana Washington (above) has scored double digits in all 10 of the Dragons' games this season. (Photo: Josh Verlin/CoBL)
Drexel Dragons (8-2, 0-0 CAA)
NET/HerHoopStats Ranking: 97/78
In a sentence: A couple hiccups aside, Amy Mallon's squad looks quite ready to defend their Colonial title with strong inside-out play led by a trio of seniors.
Best Win: Fresno State, 63-46 (Nov. 27)
One day after suffering their second loss of the season, against Nebraska, the Dragons bounced back with a convincing victory over the Bulldogs. It was on the defensive end that Drexel was especially difficult, holding FSU under 30% from the floor (17-of-58, 29.3%) while shooting .466/.315/.750 as a team in the 17-point decision. A pair of wins over Saint Joseph's (63-55) and La Salle (71-65) back in November were two more nice feathers in the cap as well.
Worst Loss: Marist, 52-50 (Nov. 10)
There's only two to choose from, but the Dragons' two-point loss at home on opening night to a Marist squad that's currently just 2-7 has to be one they'll look back at as an opportunity lost if any school wins records come into play later on. The Dragons shot just 3-of-14 (21.4%) from deep and 33.9% (21-of-62) overall, and got 0 points from their bench.
Notable Number: 11.0
One of the best teams in all of Division I at taking care of the ball, the Dragons have only coughed it up 11 times per contest, which is third nationally, according to HerHoopStats; their rate of giving it up on 14.5% of possessions is 10th in the country.
Star Watch: Keishana Washington (Sr./G)
Really, it's a three-headed Dragon, though the supporting cast is just as important (we'll get to that in a second). Washington, now the team's leading scorer (16.1 ppg), has scored in double figures in all 10 games and has 21-plus in each of the last three, grabbing a season-high eight rebounds in the team's most recent game, a win over Yale on Dec. 14. But there's also grad. forward Tessa Brugler (13.2 ppg/9.3 rpg) and grad. point guard Hannah Nihill (12.5 ppg, 4.4 apg), a trio that are all hard to stop on the same night.
X-Factor: Mariah Leonard (Gr./F)
Now in her sixth year of college, Leonard is the most experienced on a roster full of it, and even though she doesn't need to be the Dragons' leading scorer, she's still plenty capable; last year, she scored double figures seven times, and has done it three times already this season. The 5-foot-11 forward has shown she can play alongside and off of Brugler, and a productive Leonard would really make the Dragons tough to stop in the CAA.