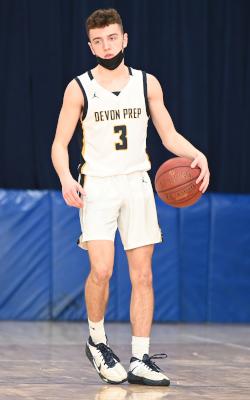 Allen Cieslak (above, last season) scored double digits in Devon Prep's opening game. (Photo: Josh Verlin/CoBL)
"My dad (Marcin) played professionally overseas (in Poland) for ANWIL (Wloclawek)," Cieslak said. "Sometimes he'll whistle during the game and tell me some things to work on. It's great to have him on the sidelines and he's always there to support. Especially his knowledge of basketball. We watch film together and he always tells me what to work on. I love him so much."
The younger Cieslak is pretty good at basketball in his own right, as he committed to play at Susquehanna in late October.
"They showed the most love," Cieslak said on why he chose to continue his academic and athletic careers with the River Hawks. "They sent me letters every other week. The biggest part was our communication. We were always calling and texting each other."
Susquehanna showed increased interest in September, when Cieslak visited the campus and had an overnight stay. He felt like he was at home; that's the reason why he chose them over Alvernia, Arcadia and Wilkes.
The interest started after the Spooky Nook Jam Fest in July, with Cieslak playing for his AAU squad East Coast Power.
"I never expected I would blow up like that during the AAU season," Cieslak said.
The 6-foot-1, 165-pound combo guard came off the Devon Prep bench last season averaging 4.0 points per game as the Tide went 9-4 in the Philadelphia Catholic League; he slotted into the starting lineup this year.
Cieslak scored 12 points, and kept his composure after his fourth 3 was taken away, as did the Devon Prep Tide in a 67-58 victory over Springside Chestnut Hill Academy Saturday afternoon at Hollinger Fieldhouse on the campus of West Chester University.
The Tide (1-0) trailed by seven after the first quarter and two at halftime with the score 36-34. They took the lead after a 3 by IV Pettit made it 39-38 in the third quarter and led 50-48 heading to the fourth.
Cieslak, with the defense worried about his outside shot, converted an and-one with 6:52 left in the fourth to push the lead to five and the Tide never looked back.
"I saw that they double-teamed from the wing, so I split it," Cieslak said. "I wanted to get the and-one and it sparked energy. From that point on the basket just got bigger and we kept moving the ball."
That's the benefit of having multiple productive shooters from deep; Devon Prep hit 13 total 3s as a team.
"We all drive and are all unselfish players," Cieslak said. "When we drive, we kick. We rely on each other and trust each other. If the defense stays out it opens up the lane. If they collapse, we can all shoot."
Pettit, who was awarded team MVP, hit five 3s and Luke Orchard hit four. Orchard played a crucial role in disrupting the SCH offense from the top of the zone on defense and penetrating the lane before kicking out to open perimeter shooters on offense; he finished with 20 points, nine assists and seven steals.
"We practice it all the time with me being at the top of the zone," Orchard said. "I try to make myself as wide as possible, use my vertical, jump up and down, and use my length to tip balls and get steals. I love that role. I take it very seriously."
The Tide will try to keep the momentum going as they travel to take on Episcopal on Tuesday.
"It feels good to get the MVP trophy, but it was a team win," Pettit said. "As a team we just want to continue to get better. It's a long season. Hopefully we can win some championships."
For the Blue Devils (2-1), team MVP Jacen Morton had 16 points. Ron Brown had 12 points, Cam Burns 10 points and Darius Isaac six points, eight rebounds and seven assists.