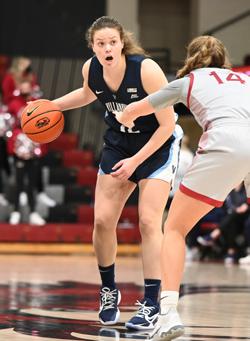 Lior Garzon (above) set a new career high as Villanova downed St. Joe's. (Photo: Josh Verlin/CoBL)
"She surprised me last Monday," Garzon said. "She called me like 'Oh, hi...I think I'm coming to your game next week, what do you think?' and I was like "of course...I really miss you."
Ruth Garzon certainly picked the right game to see her daughter play in college for the first time. St. Joe's didn't have any answer for Lior Garzon as the 6-foot-1 forward dominated, scoring 26 points to lead 'Nova to a 55-39 win at Hagan Arena.
Garzon easily topped her previous career high of 19 points, set in January at Butler, while also setting new personal standard in minutes played (36), shots made (eight) and attempted (15), free throws made (nine) and attempted (10), and tying her career best with three assists.
To be able to look up and see her mom in the stands made it all so much better.
"It was really nice to see her in the fans, it's never happened," she said. "With COVID last year, she couldn't come — so yeah, it was really exciting to me."
Ra'anana is a city of about 75,000 people located just north of Tel Aviv, on the country's Western edge, just a few minutes' drive from the Mediterranean Sea. Ga
Growing up, Garzon said, playing basketball in the United States wasn't something she had considered, but got into the idea thanks to fellow Israeli ballplayer Dor Saar, who's finishing up her college career at Middle Tennessee State.
It was former Villanova coach Harry Peretta who initially reached out to Garzon, though she stayed committed through the coaching change to Denise Dillon, now in her second year on the Wildcat sideline. Garzon didn't get to the Main Line until the fall semester last year, a little behind her teammates and classmates, but still averaged 8.8 points and 2.9 rebounds as a freshman, starting one game.
"I (made) a good decision to come here," she said. "I get all I need to be the best player I can be."
"I give Lior a lot of credit, she basically made a decision to come to the States, to come to Villanova, to stick with it," Dillon said. "With me being hired and then COVID coming into play, she had a lot of outs, but she made the decision."
"I always feel (when) an individual makes a decision, they're going to thrive, they're going to just really grow."
Through three games, Garzon is Villanova's leading scorer (15.7 ppg), shooting 15-of-31 (48.4%) overall and 7-of-15 (46.7%) from the 3-point arc.
She was the only double-figure scorer in the whole contest on Saturday, as Villanova held St. Joe's to 25% from the floor (13-of-52). After two tough losses to start the year, and with Villanova's best player on the sideline, Garzona's effort and output came at a crucial time.