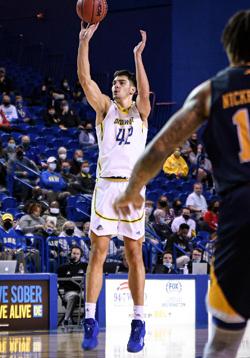 Painter has expanded his shooting range out to the 3-point arc. (Photo: Gavin Bethell/GShotPics)
With under a minute left in the first half, Painter made the most noise with an excellent glimpse into the versatility he's added to his game. With the Blue Hens down four, he rebounded a missed shot and put it back up, nailing a tough finish and drawing a foul. He made the free throw, then buried a 3-pointer at the top of the key the next time down. Delaware then got the ball back again to close the half, which ended with a Painter trey off the catch as time expired to cap a personal 9-0 run and put the team up five.
That kind of outside shooting wasn't something he showed in college before — he was 2-for-8 from deep before this season — but it's something he's put the effort into improving.
"In high school, I could shoot the '3' and stuff, and I kind of got away from it at Villanova," said Painter, who's hit three of his four 3-point attempts this winter. "Since I got back here, I've been working on it. It's really all about confidence. I found confidence in shooting, and my teammates have confidence in me shooting."
Added Ingelsby: "Us instilling confidence in him as a basketball player, I think that has really helped his game evolve."
In addition to the newfound element of his game, his post scoring and being the anchor of the Blue Hens defense, Painter also brings a sense of leadership to this Delaware squad in his third year. Being around the Villanova team during its 2018 season and NCAA Tournament victory, he's been exposed to winning and what a winning team does. The Blue Hens respect that and learn from what Painter has to offer.
"He's done a great job as a leader of our team and being a guy people look up to," Ingelsby said. "Just setting an example of how you work every day. I think that resonates with our group."
Painter wants to turn Delaware into a winner, too. His eyes are on a potential CAA championship and a bid into March Madness.
The Blue Hens haven't made the NCAA Tournament since 2014, a 25-win season thanks to the powerhouse backcourt of Davon Usher, Devon Saddler and Jarvis Threatt. Ingelsby replaced Monte Ross three years later and has only had two winning seasons (17-16 in 2018-19 and 22-11 in 2019-20), but the former Archbishop Carroll standout and Notre Dame assistant has had significant injury issues to deal with that set back some promising teams.
He's got the pieces in place to contend at the top of the CAA this year, with Painter and Allen (19.7 ppg) joined by George Washington transfer and Haverford School alum Jameer Nelson Jr. (12.0 ppg) and central Pennsylvania native Kevin Anderson Jr. (10.0 ppg), plus West Chester East product Andrew Carr (7.7 ppg).
A trip to Estero (Fl.) next week for the Gulf Coast Showcase against other quality mid-majors should be a good gauge for those aspirations, but the Blue Hens are happy with their 2-1 start to the year in the meantime.
"I think it's the start of something big down here in Newark," Painter said.
Wherever Delaware goes, it'll be crucial that Painter plays one of the most important parts. And at this point in his career, he's confident he can handle it.