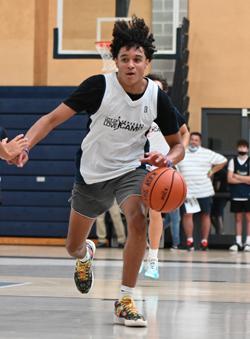 Hill School guard Trey O'Neil (above) was one of the best point guards at camp Saturday. (Photo: Josh Verlin/CoBL)
Trey O'Neil (2024 | Hill School)
During most of camp O'Neil could be seen showing off his diverse inside-out game. O'Neil was equally dangerous from the perimeter and in the paint. But his ability to stay composed is what really set him apart in the final game of camp, O'Neil provided 14 second-half points in a comeback effort for his team. He was able to knock down threes off the catch and dribble, and he showed a knack for navigating pick-and-rolls to get his shot. Once his perimeter got going he aggressively drove to the rim where he absorbed contact well and was able to finish through traffic.
Fazi Oshodi (2024 | Friends Central)
When it came to getting to the rim, Oshodi was in the upper tier of campers. He has a variety of gathers in his bag that puts him in favorable positions around the rim, from there he's athletic enough to finish in traffic. He combines physicality and finesse around the rim which made him a difficult cover for opposing players during camp. He also showed off a nice jumper in his final game at one point hitting four straight from distance. There's still work to be done in the playmaking department, but if he continues to be a threat from the perimeter he'll be a tough cover for Friends Central's opposition this year.
Gioacchino Panzini (2024 | Red Bank Catholic, N.J.)
Smooth, mobile and athletic, the rising sophomore opened his day with a strong half that featured two dunks and an emphatic block. Panzini flashed a soft touch around the rim and moved around well in the halfcourt to keep his team's offense moving. He showed some perimeter game as well, hitting a couple from outside the arc in his second game with a pretty smooth shooting stroke.
Ben Rill (2025 | Westtown School)
There was a lot to like about this young 6-7 forward from York, who'll learn under Dereck Lively II at Westtown this year, though he looks ready to earn some varsity minutes in his own right on a loaded Moose squad. Rill scored at least 16 points in all three of his games, hitting mid-range jumpers and finishing with both hands, including a few hook shots and another couple nice footwork finishes. Rill's game could evolve to see him be more of a '4' or even a big '3' thanks to his natural athleticism and coordination, but he looked comfortable in the combo '4'/'5' role at camp.
Nasir Williams (2025 | Sankofa Freedom)
Williams' confidence rose with each game he played and was chipping in on both ends of the floor by the final contest of the day. An instinctive defender with sharp anticipation and good hands, he was able to frustrate opposing players on the ball and caused quite a few turnovers by sliding over on help. Offensively, he ran the floor as an option in transition, got to the rim well and by the last game, was taking shots from outside with confidence.
Ryan Williams (2024 | Malvern Prep)
The Inter-Ac nets could be in for some hefty punishment this year at the hands of Williams, who looks ready to burn up the nets at Malvern Prep after spending his freshman year leading the junior varsity squad. The slender 6-2 guard is a natural scorer with range, but he's shifty with the ball in his hands and knows how to get into the mid-range and hit pull-up jumpers or throw up a couple floaters. Williams had a strong camp scoring the ball, with his 'quiet' game of 11 points and a breakout 20+ outing later on in camp, flashing a quick smile after every made bucket. As he fills out physically, Williams could blossom into a high-level recruit.
Honorable Mention
Anthony Brown Jr. (2024 | Eng. & Sciences), Luke Brown (2024 | St. Joe's Prep), Laquan Byrd (2024 | Father Judge), Olin Chamberlain (2025 | St. Joe's Prep), Zane Conlon (2025 | Devon Prep), Jacob Cummiskey (2024 | CB East, Pa.), Amari Dow (2024 | Cristo Rey), Kaydin Ford (2024 | Abington Friends), Tristen Guillouette (2024 | St. Joseph's Prep), Paul Glants (2025 | Abington), Brendan Horan (2025 | Cardinal O'Hara), Khaleek Johnson (2025 | Hill-Freedman), Zachary Kirk (2024 | Octorara Area) Jacob Meachem (2025 | Hill School), Ty Mishock (2024 | Devon Prep), Antonio Morris (2024 | Bensalem), Ryan Mulroy (2025 | Upper Dublin), Billy Rayer (2024 | Haverford School), Gabriel Rivera (2024 | Reading, Pa.), Dwayne Snead Jr. (2025 | Pennington School), Jake Sniras (2025 | Garnet Valley)