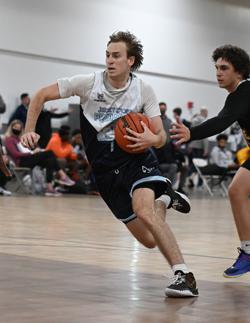 Colin Ackerman (above) was one of the standouts from this weekend's Big Shots Philly Pride tournament. (Photo: Josh Verlin/CoBL)
Colin Ackerman (2022 | Jersey Shore Predators | Manasquan, NJ.)
Ackerman, a 6-foot-2 guard who hails from northeast Jersey, led the Jersey Shore Predators 17U group on both ends of the floor. An athletic point guard, he showcased his ability to run an effective offense and get after it on the defensive end. Ackerman's excellent court vision and handle were on full display, but he also showcased his ability to get by his defender and finish hard at the rim. On the defensive end, he brought tough pressure for 94 feet. Working to get steals, tips, and rebounds, Ackerman's hustle on the defensive end often translated to his buckets on offense.
Jalil Bethea (2024 | Philly Revolution | Archbishop Wood, Pa.)
The first of a couple young Wood guards who played well this weekend, Bethea looks like he's ready to be a varsity contributor in the Catholic League as a sophomore. A 6-3, 155-pound guard, Bethea is a terrific outside shooter, which he showed knocking five 3-pointers in a win over East Coast Power, and then used that range to start attacking the rim, where showed solid decision-making on the move to dish or score. A smooth, athletic guard, Bethea still has a lot of growing to do to fill out his frame and get stronger on both ends of the floor, but the upside is certainly there.
Sam Brown (2023 | Philly Pride Gold | Lower Merion, Pa.)
The son of former NBA head coach and Boston U guard Brett Brown, Sam Brown is definitely on track to play at the Division I level like his father. A 6-3 guard with a basketball IQ that is off the charts for his age group, Brown made numerous passes that really displayed his high IQ, showing he's much more than just a long-range shooter. Brown made everyone on his team a better player, and he would have filled the stat sheet with assists if a few more shots had fallen. Along with his passing, Brown showed that he has the ability to hit shots even with a hand in his face. While Brown had a strong offensive weekend, he also made some crucial defensive plays for his team, and he's a good athlete with length.
Brett Byrne (2022 | East Coast Power | Methacton, Pa.)
Byrne's got about as much experience as you can have as a high school rising senior, having been a contributor on high-level Methacton squads since his freshman year, playing a huge role on a state title contender as a sophomore, and he game is certainly under control. A 6-1, 175-pound shooting guard, Byrne's best asset certainly is his ability to knock down shots from deep, whether that's pulling up in transition or off the catch, with consistent and smooth form and a quick release. He's also tough off the dribble, taking advantage of mis-match situations to get to the hole. High-level D-IIs and D-IIIs are already involved.
Jeremy Clayville (2024 | All In | DePaul, N.J.)
Playing up with the 16U champions this weekend, Clayville certainly showed no fear from the outset of the title game, knocking down two deep 3-pointers in the game's first couple minutes, setting the tone for an impressive all-around outing. A 6-0 combo guard, Clayville ran point for the talented squad from N.J. but also moved well without the ball, constantly getting free for open looks even once it was clear he could connect from NBA range; he finished with three 3-pointers and 20 points, plus three boards and three assists in the win over SJ Hoops Elite. Looks like he's still got another growth spurt in him, which would help tremendously, but definitely a youngster to watch moving forward for his shooting and competitive mentality alone.
Mel Copeland (2021 | Running Rebels | William Allen, Pa.)
Mel Copeland was a significant part of the L and L Running Rebels Open 68-43 blowout win against the Carolina Gators Red 2022. The 6'1 guard was the team's leading scorer with 18 points. He mostly got his buckets from mid-range shots and his will to attack the basket. In addition to his 18 points, Copeland had a handful of assists due to his unselfish playing style. On the defensive end, Copeland was quiet, but it didn't matter since the Rebels only gave up 43 points. In his senior year at William Allen, Copeland played a key role in bringing his team to the playoffs by averaging 11.5 points per game.
Marquis Ferreira (2022 | LA CATS | Lebanon, Pa.)
Take your eye off Ferreira for a second, and he's going to beat you — that's something defenders learned plenty throughout the course of the weekend. A 5-9, 155-pound combo guard, Ferriera is also a track star for Lebanon, and it shows: he's super-quick on his feet, whether that's using his handles to get to the rim, pushing the pace in transition, or bothering opposing guards with quick hands. A hard worker without the ball, he's also a great decision-maker with it, seeing the floor and making snap decisions on whether to pass, dribble, or shoot. Didn't miss a shot in a 20-point outing Friday night (7-7 FG, 3-3 3PT). Multiple D-III programs already involved.
~~~
(More coverage: Local Storylines | Recruiting Notebook)
~~~
Vaughn Foster (2023 | All In | Dwight-Englewood, N.J.)
Another reason that All In won the 16U championship was due to this impressive young big wing, who scored 19 points in the championship win. A 6-6, 200-pound forward, Foster has a solid frame that allows him to bang around inside (eight rebounds), but he's a skilled '3' man who can step out and shoot (2-4 3PT), and he also picked up three assists and a steal during the win. As he continues to refine his body and work on his athleticism, he'll become an even more effective defender and glass-crasher. A strong student at one of the better private schools in North Jersey, Foster will be all over high-academic D-I radars (and more) before long.