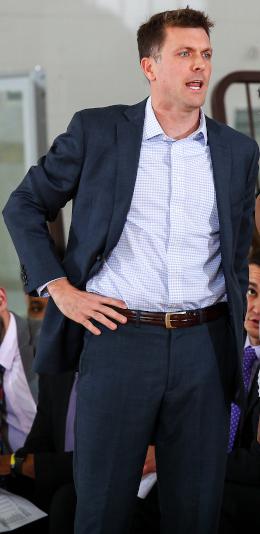 Joe Crispin's Rowan team opted out of the 2020-21 season, which has been abbreviated to eight games. (Photo: Rowan University Athletics)
Kevin Callahan (@CP_Kcallahan)
~~
Both John Giannini and Joe Crispin are basketball lifers. The game rattles in their bones. The court is their second home.
For them, though, basketball isn't bigger than life.
So, as disappointed as they both are, they understand why there is no basketball season at Rowan University this year.
Truly, no one would want to hear the balls bouncing in their Glassboro, N.J., gym more than Giannini, the athletic director, and Crispin, the head coach. They even miss the bad calls by refs and parents yelling to play their kids more.
But even though most of the teams in their league started play in early February, Rowan basketball is shuttered.
"I totally understand why we're not playing," Crispin said, "and it's not just because of COVID. It's more because of logistics and money and personnel limitations. How many sports can you try to play at once? Where you can at the Division I level, but you can't at our level with the limitations, with just our trainers alone.
"So, I get it and I really wasn't questioning it at all," continued Crispin. "I think one positive [COVID] test, you lose two weeks of your season and the season is only four weeks long, so I get it, but I do feel bad for my kids.
"Just getting them on the court to work out and practice, it's just hard enough, so good for these other schools for playing, but I don't know their limitations on spring sports and other stuff."
In early January, Giannini, La Salle head coach from 2004 to 2018, announced with "mixed emotions" the cancellation of Rowan's winter athletics season, recommending "that we put the health and well-being of our student-athletes and University community ahead of all else."
To put the health and well being of the players and coaches on the top rung, logistics kept shaking the ladder of priorities.
"You got to worry about bathrooms and locker rooms," Giannini said. "Is this hallway one-way going down or one-way going back? Just walking down the hallways was an issue."
And Giannini knows the hallways of Rowan in the dark. He coached the Profs to the 1996 Division III national title in one of three Final Four visits, posting a 168-38 record in seven seasons.
"The people who are trying to do what they love are having a negative experience," Giannini observed about the teams currently playing.
As a TV commentator, Giannini sees both sides of the 'to play or not to play' dilemma.
"I broadcast Division I games and I literally talk to coaches who are playing every day and they cannot wait until it's over," Giannini said. "There is no joy in what they're doing. The kids, most of them were not allowed to go home for Christmas. They haven't seen their families since the fall. They are afraid to do anything other than leave their dorm rooms and their offices. They are constantly tested and have a lot of anxiety about the results. They don't know when they're going to be shut down.